Rockport Center for the Arts
---
Rockport, Texas - one of the top 100 small art towns in America!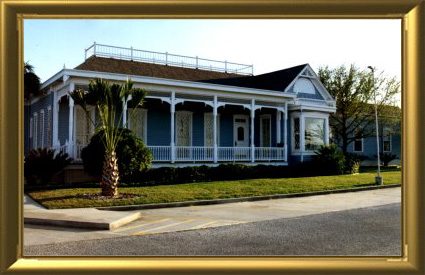 902 Navigation Circle

361-729-5519
Open: Tue-Sat 10-4, Sun 1-4
FREE Admission

Rockport Center for the Arts brings together artists and art lovers in a stimulating atmosphere of learning, exhibits and idea exchange. The Center and adjacent Sculpture Garden are located in the Museum District, between picturesque Rockport Harbor and beautiful Aransas Bay. Committed to cultural enrichment and art education, Rockport Center for the Arts is the "jewel" of Aransas County's art community.

Main Gallery - invitational exhibits include all art forms by local to internationally recognized artists.
Members Gallery - an eclectic array of art by members of Rockport Art Association.

The Palette Gift Shop - affordable original art, prints, note cards, pottery, stained glass, and more. Art Festival posters and tee shirts - art books, children's books, cookbooks, and Aransas county history books.

Visual Arts studio and Pottery/Sculpture studio - a place for working artists, classes and workshops.

Sculpture Garden will be home to permanent sculptures and visiting sculpture shows.

Tour of Homes held in the spring includes many of Rockport's finest homes and private art collections.

Rockport Art Festival on July 4th weekend showcases 120 artists and artisans from across the nation.

ArtLink for Kids - a multi-disciplined summer art camp.

ArtTalks - an intimate informal opportunity to meet artists and learn of their art experience.

Concert Series and Performing Arts Productions help fulfill the mission of the Rockport Center for the Arts:
to contribute to art education and cultural enrichment in Rockport and the surrounding Texas Gulf Coast region.


---